Our pricing supports the following customizable parameters:
Unlock Fee: The cost of unlocking and beginning trip, regardless of the duration of the trip. A customer must have at least $10 in their wallet to unlock a scooter.
Per Minute Riding Fee: The cost of riding time per minute. For example, $0.30 per minute equals $18/hour. In addition to you price per minute, can also configure a price per paused minute and / or price per mile.
Maximum Pricing Threshold: The maximum price a customer will be charged, regardless of how long their trip is.
A "maximum pricing threshold" can be configured for someone who takes a longer trip with the scooter. For example, some partners may wish to include a maximum rate for a customer that keeps the scooter overnight or for an extended period of time.
We configure this in NYC to be:
Subscriptions:
You can set up subscriptions through the software's dashboard. You can create different types of subscriptions (e.g. daily, weekly, monthly passes, etc.) and set limits for each type. The limits will reset each day. If you wish to not give any included unlocks in a daily subscription that is also possible. Your users would have to pay for unlocking a vehicle on top of what they have paid for the subscription.
In the case where you wish to have a maximum day rate, this would be done using subscriptions. A 24 hours subscription can be made. We set our maximum day rate to $60. Subscriptions are also not just limited to one day. You can do multiple days. However if the customer rides past the subscription time, the hourly rate would then kick in for the additional time used.
Also note that the subscriptions are not automatically renewable - meaning that your users buy a subscription and use it for the set amount of time until it expires, and then if they wish to, they can renew it by purchasing the subscription again.
These are examples of the prices that we have here in NYC. The rates and times are adjustable and can be setup to your liking. For information on how to setup a subscription please see here.
24 hour trip w/ 24 hour subscription : $60
72 hour trip / 3 day unlimited subscription: $120
5 day running trip: $180
Once you have your pricing set the customer will be able to see the pricing ahead of time before unlocking the scooter.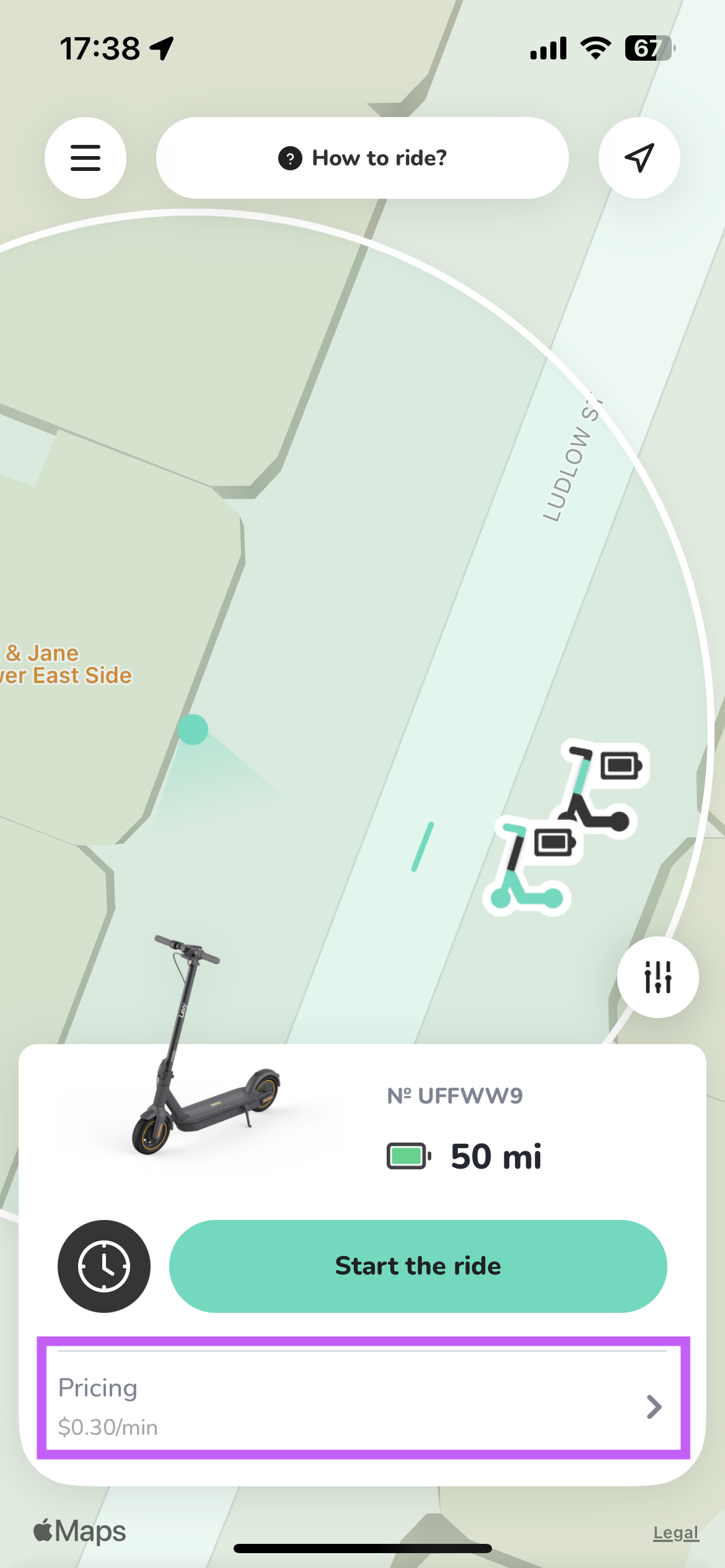 They can even click further into the pricing for more information. Not only to show the maximum charge for the ride but also if a subscription is available for the scooter.