Regulations and requirements for shipping battery packs has recently been updated with new rules and labeling requirements with the major carriers such as FedEx, UPS, USPS, and DHL.
We strive to stay up with the latest changes in this article to make the complexity around this topic as straightforward as possible. When you are ready to buy a label - head over to our shipping app to take advantage of our volume discounts with these carriers.
This article we explain requirements for shipping Lithium-ion battery packs. Mostly commonly used in Electric Scooters and bikes.
UN 3480 now is the classification for lithium battery packs, under the following requirements.
LITHIUM ION BATTERIES, UN 3480
BATTERY MUST BE UN 38.3 TESTED (UN Tested)
BATTERY STATE OF CHARGE MUST NOT EXCEED 30 % OF RATED DESIGN CAPACITY
WEIGHT LIMIT OF 30KG
Shipping Ground - Domestically
Battery should contain the following labels:
UN3480
FORBIDDEN FOR PASSENGER AIR LABEL

Shipping Ground - Internationally
Shipments going internationally must contain the Class 9 Hazmat Label in addition to the UN3480 Classification and complete Shipper Declaration papers.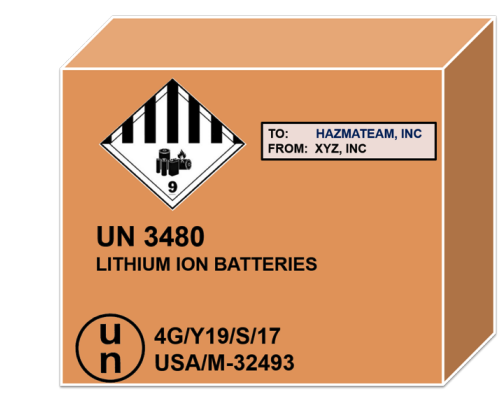 Shipping Air
Shipments air must contain the Class 9 Hazmat Label, UN3480 Classification, and Cargo Aircraft Only Label and complete Shipper Declaration papers.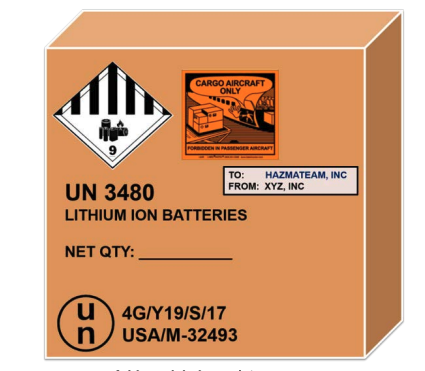 UN3480 Label with Class 9 Designation
Fields required on Shipping Declaration form: