Regulations and requirements for shipping Electric Scooters containing lithium batteries is constantly changing and being updated with new rules and labeling requirements with the major carriers such as FedEx, UPS, USPS, and DHL.
We strive to stay up with the latest changes in this article to make the complexity around this topic as straightforward as possible. When you are ready to buy a label - head over to our shipping app to take advantage of our volume discounts with these carriers.
New changes in 2022: Up until earlier this year, shipping any electric bike or scooter with a lithium battery over 100 Watt Hours (which is pretty much all of them), was considered UN 3480 by the USDOT, which came with stricter regulations on where and how you could ship these products.
But, given the rise in popularity of these personal mobility devices there is a brand new category that covers these. UN 3171 now is the classification for battery-powered vehicle shipments. When lithium batteries are integral to the electric scooter or bike, the whole package can ship under the UN 3171 classification, without the need for special hazmat certifications. There are some caveats to this though - the package weight must be under 30kg (66 lbs); and the battery must weigh no more than 5kg (11 lbs).
Since it's most common to ship the entire scooter with the battery pack installed - we'll focus for on that process. The formal definitely for Battery Powered Vehicles is below.
"BATTERY-POWERED VEHICLES" ARE SELF-PROPELLED APPARATUS DESIGNED TO CARRY ONE OR MORE PERSONS OR GOODS. EXAMPLES OF SUCH VEHICLES ARE ELECTRICALLY-POWERED CARS, MOTORCYCLES, SCOOTERS, THREE- AND FOUR-WHEELED VEHICLES OR MOTORCYCLES, TRUCKS, LOCOMOTIVES, BICYCLES (PEDAL CYCLES WITH AN ELECTRIC MOTOR) AND OTHER VEHICLES OF THIS TYPE (E.G. SELF-BALANCING VEHICLES OR VEHICLES NOT EQUIPPED WITH AT LEAST ONE SEATING POSITION), LAWN TRACTORS, SELF. PROPELLED FARMING AND CONSTRUCTION EQUIPMENT, BOATS, AIRCRAFT, WHEELCHAIRS AND OTHER MOBILITY AIDS.
Other Requirements
BATTERY-POWERED VEHICLE, UN 3171
BATTERY MUST BE UN 38.3 TESTED (UN Tested)
BATTERY MUST BE INSTALLED & NOT DAMAGED/DEFECTIVE
NO SPARE BATTERIES ARE PERMITTED
APPLIES TO VEHICLES POWERED ONLY BY A LITHIUM METAL OR LITHIUM ION
BATTERY. IF THE VEHICLE IS POWERED BY OTHER BATTERY TYPES OR OTHER FUELS, REFER TO IMDG SP 388 & 962.
Shipping Ground - Domestically
As long as your scooter meets these requirements - no special labeling is needed on the outer box IF THE PACKAGE IS SHIPPING GROUND ONLY.

Shipping Ground - Internationally
Shipments going internationally must contain the Class 9 Hazmat Label and complete Shipper Declaration papers.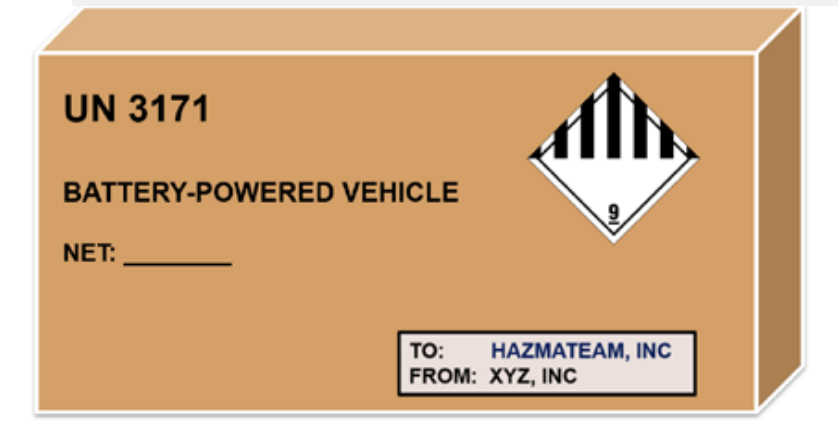 Shipping Air
Air shipments must contain the Class 9 Hazmat Label and complete Shipper Declaration papers. It must also contain:
Battery must be installed in the scooter and not damaged / defective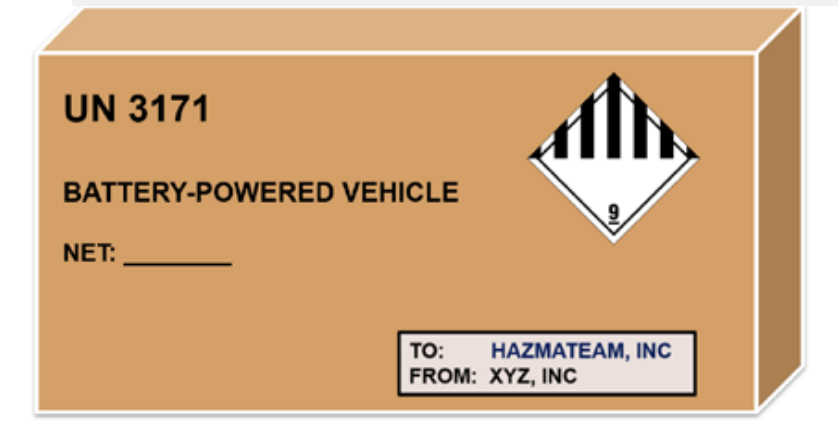 UN3171 Label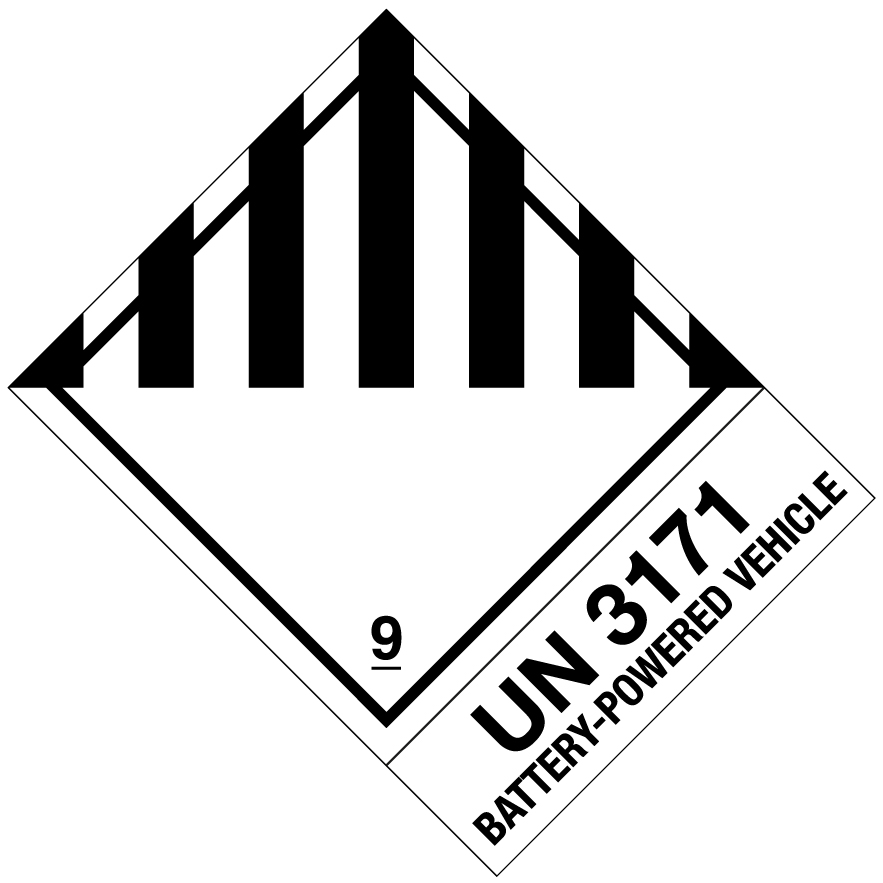 Required information on Shippers Declaration Form: See here